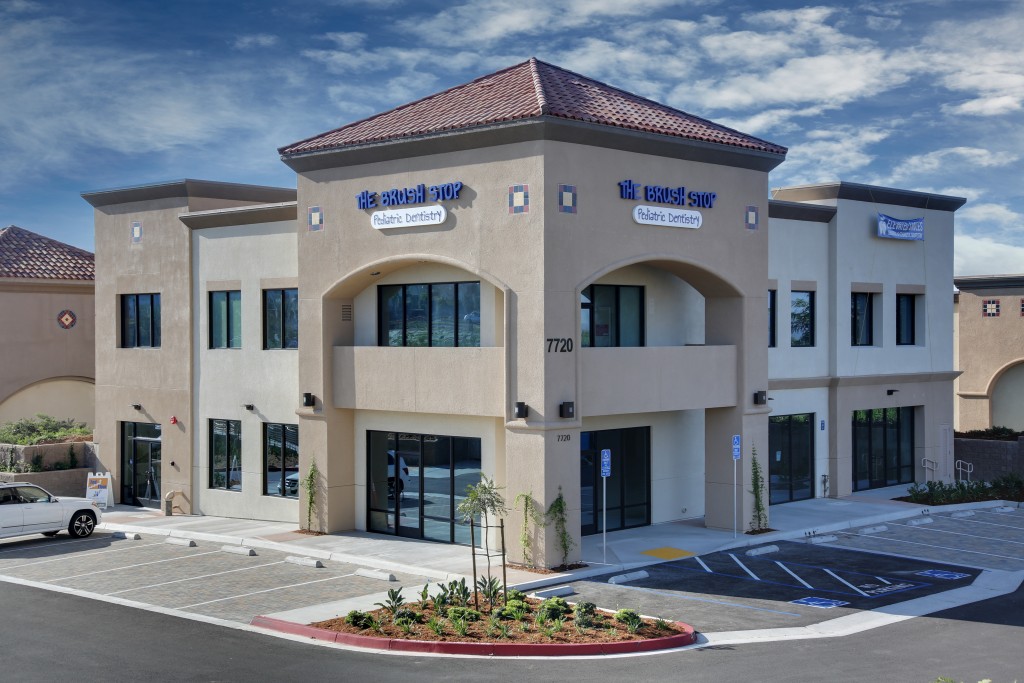 The state-of-the-art office at The Brush Stop Pediatric Dentistry has been specifically intended to facilitate patient and parent comfort. The practice is composed of areas designed for oral examinations, cleanings, orthodontics, and private treatment suites, all equipped with personal movie stations. There is a private nursing suite to accommodate our breast-feeding mothers, and to maintain privacy for those infants and newborns visiting us for their surgical appointments.
The Brush Stop Pediatric Dentistry is conveniently located at 7720 Rancho Santa Fe Road, on the corner of La Costa Avenue and Rancho Santa Fe Road. Our office is on the second floor, and positioned next door to CVS and across the street from the La Costa Towne Center. Our proximity to the 5 and 78 freeways makes it convenient for our patients coming from all parts of San Diego, and surrounding cities, including San Elijo Hills, Encinitas, Del Mar, Carmel Valley, Carlsbad and San Marcos. The office complex has ample, easily accessible parking, and is fully handicap compliant.
Our reception area is child and teen friendly, with age appropriate games, an I-pad station and books. With a coffee bar and aromatherapy throughout the practice, we designed our space to allow parents a moment of relaxation. An accompanying parent is always welcome to the treatment suites, and patients are ushered by our dedicated clinical team to their designated chair, where the doctor will welcome them. The checkout process is individualized and private, involving our knowledgeable team capable of directing patients to whatever continuing care may be necessary to meet both their health and insurance needs.
We look forward to meeting you soon, and please do not hesitate to call should you have any questions, or are in need of directions to our office.
360 Degree Office Tour